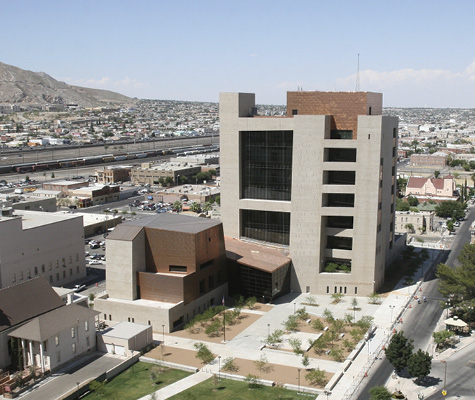 US Federal Courthouse
This stunning U.S. Federal Courthouse opened in El Paso in 2010.
Built as an addition to the existing US Federal Courthouse, this 10‐story, 237,000 square foot structure includes a library, magistrate offices and courthouses. With the courtrooms clad in Texas limestone, and the library and jury assembly enclosed in copper, the courthouse holds its own striking view against the Franklin Mountain backdrop.
Location: El Paso, TX
General Contractor: Caddell Construction
Mechanical Contract Value: $9,665,438
Date Completed: 2010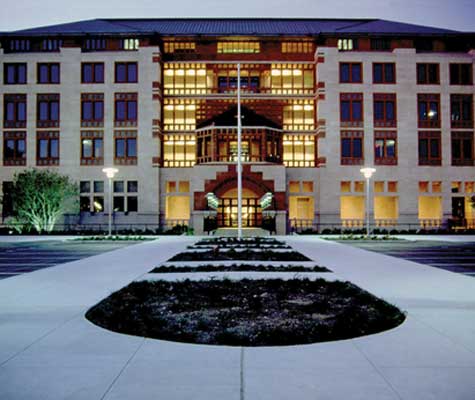 Bexar County Justice Center
The expansion of the Bexar County Justice Center added ten floors and 213,000 square feet to the San Antonio facility.
It included approximately 199,000 square feet of fully finished space and 14,000 square feet of shell space on the 10th floor. Cobb Mechanical worked as a design build partner and provided the mechanical and plumbing installation work, while helping the project achieve LEED Silver certification. Although a highly complex renovation, construction was done seamlessly and without disruption to the building occupants.
Location: San Antonio, TX
General Contractor: Zachry Construction
Mechanical Contract Value: $8,078,769
Date Completed: 2010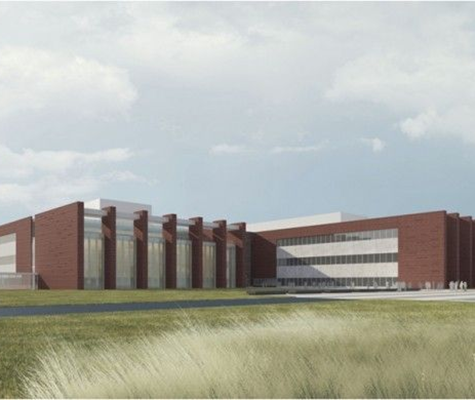 Stratcom Headquarters
New headquarters for Strategic Command – includes central plant, 2 Tier 4 data centers, a 400 seat auditorium and conference center.
MECHANICAL CRITERIA: 3 separate N+1 CUPs, 8,760 tons cooling / 2 million lbs of ductwork & 270,000 lf of hydronic piping.
Location: Offutt AFB, NE
General Contractor: Kiewit-Phelps, Joel Douglass, Joe Lempka
Combined Mechanical Contract Value: $106,028,163
Date Completed: 2018